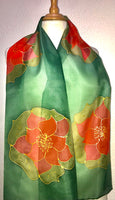 Welcome to Designer Silk Artist
A very Happy Christmas and all good wishes for the New Year 2024!
We are looking forward to a happy and restful family Christmas here at Designer Silk Artist. It's been a busy year but we are lucky to enjoy our work so much and we are planning Christmas as we do for our shows with lots of preparation in advance! As a designer maker I am so fortunate to work with silk and colour, it's a dream come true! However I couldn't do this without the love and support of my family, friends and my wonderful followers and customers. A huge 'Thank you!' to all of you!

Plans for 2024 are well underway and a we are looking forward to a series of shows and events including a special new product launch.
Do bookmark this page to keep in touch or better still sign up to our mailing list for the latest news, products, offers and more.

A Designer Silk Artist scarf is like a hug in silk! 
Kindness, peace and joy Katherine xx
More than a scarf --- this is an amazing work of art. Thank you"

Suzanne
Truly beautiful scarf lovely packaging, and very quick delivery. 

Alison
Beautiful! Quality silk, super sheen, drapes wonderfully, arrived in record time.  Such a 'happy' scarf - colours are bright and pop nicely.

Gail

Member of ACID (Anti Copying in Design)